Complete Guide to the Ichetucknee River
The Ichetucknee River is a spring fed, pristine river in north central Florida. Thousands of people visit the river and springs each year. Common activities include tubing, hiking, wildlife viewing, picnicking, swimming, canoeing, snorkeling and scuba cave diving. We have created a picture guide to tubing down the river so you know what to expect. The whole 6 miles of the river average 20 feet wide, 8 feet deep and lie within the boundaries of Ichetucknee Springs State Park. Camping can be found near the park, but not inside of it. We also have a lot of information about the state park and the area's history.
The most popular past-time on the Ichetucknee River is tubing. There are several tube renting companies located just outside the Ichetucknee Springs State Park entrance and visitors can rent large tubes and rafts for anywhere from $5 to $20 per flotation device. Tubing here is very popular among college students at the University of Florida in Gainesville since it is just a short one hour drive to the park entrance in Fort White. Thousands of students tube down the Ichetucknee every year.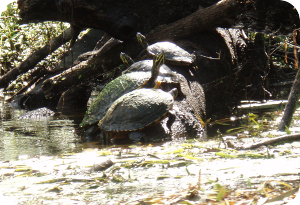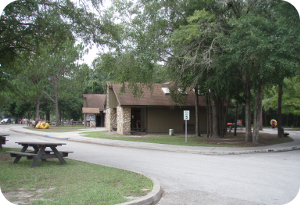 The headspring (Ichetucknee Springs) of the Ichetucknee River